For this project, I did a lot of research and it didn't came up easily to find this information, as I was looking for the wrong term ;-)
But after a little research, I figured out what I am looking for and start fresh. Here is what I've found:
LARGE AUTHENTIC HERRICK ANTIQUE ICE BOX SOLID OAK


A video, not quite an ice box - and it doesn't look like the one we havem but here it is:
Some info about dry ice, here.
Here is THE ANTIQUE REFRIGERATOR SITE, some information about the history of refrigerators ;-)
One miniature refrigerator:

Vintage antique refrigerator handles
Old Antique Fridge Pull
Superb vintage ice box.
Still, I find the turquoise one more attractive.



Beautiful Antique Oak Ice Box --
dates back to the early 1900's I believe---
In great original working condition--
D. Eddy & Sons - Boston, MA



OLD Icebox "Automatic" Morrison, ILL T Hinges/Latches
Brass Plate Steel over OAK
Vintage block ice refrigerator/ice box. Probably 20's era.
Made by DOUBLE DUTY AA in Morrison, Ill.
It was called the 'SUPER STEEL AUTOMATIC'.
Brass plate is original as is everything else in the icebox.
Brass plate boasts that it saves food, chills water, and uses less ice.
It's in superior original condition.
All hinges and latches are perfect.
There is absolutely no dings, or dents anywhere in the unit.
It's entirely covered with steel wrap coating over solid oak wood.
Note that the inside is as good, (underneath the steel wrap)
if not better than the outside.
Inside door panels are perfect. All inside liners are fine.
Two original wire racks and the original galvanized block ice tray.
I pictured a standard 2-wheel dolly next to the unit for size comparison.
It needs a good cleaning and possible refinish if so desired.
Put a block of ice inside, and it's functional.
It's 42-1/2" high x 32-1/2" wide x 22" deep including the large latches.
About 175 to 200 pounds I'm guessing.
It's been stored inside a dry shed for a great number of year.
It's in excellent original condition. It went back inside after the hayfield pictures.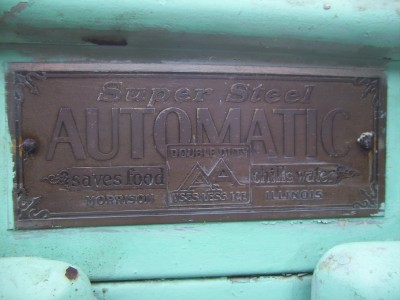 Chautauqua ANTIQUE ICE BOX OAK
Original Refrigerator


Original papers





GREAT ANTIQUE SMALL ICE BOX STYLE
MISSION OAK LIQUOR CABINET



GREAT ANTIQUE SMALL ICE BOX STYLE
MISSION OAK LIQUOR CABIN
This is a very nice liquor cabinet.
Beautiful grain, nice brass hardware.
Very old. Dimentions are 32.5"
high by 13.5" wide by 10" deep
(not counting door hardware).
Two compartments, bottle cutouts.
Beautiful and authentic piece.
Please see pictures and ask questions.
ANTIQUE OAK ICE BOX, ALL ORIGINAL

This ice box is in very good shape. Ready
to use and not one of those monsters that are hard to move.
Excellent size and would fit most anywhere. Size: 24" wide x 26" deep x 38" high.
-AGE -1900-1950 (I believe it's early 1900's)
More old stuff, here. They say vintage it's back, and it's more sexy then ever!
And we do believe so! ;-)


Type CA-1-A16
Serial number 4416444
Built approximately in the early 1930s.
Good operating condition
Original owner
Similar item was sold on TLCs Pawn Shop for $6000 after being retro-fitted
Video showing some old tehnical book about 1892's refrigerators.